Regular price
Sale price
149€
Unit price
per
Sale
Sold out
The Sterne
: your future 25-liter bike bag, which makes the world of sport/outdoor circular.
A bag with very low environmental impact, elegant and durable.
♻️ Upcycled and
waterproof
: intensely eco-responsible. See upcycled materials below.
📐 Simple,
secure and universal attachment system
. A bag cut for a day, with
a well-padded computer compartment.
A bag to go to work, come back from the market, go to the sport...
All technical information available below.
🇪🇺 Made in northern Portugal, in a family workshop.
💡 LEFT/RIGHT: to never touch the bag with the heel, one of the 2 bottom corners of the Sterne is "broken".
Upcycled materials

All this was going to go up in smoke, they will soon go back to the adventure on your bike:

• Exterior: made of semi-rigid, waterproof and puncture-proof boat canvas.

• Closing system: a small piece of rope from Petzl.

• Carrying strap: made of a car safety belt.

• Pockets : surprise color when opening for this kite computer compartment from F-one.
This compartment can accommodate a 15 inch computer.
Technical characteristics

• Attachment: on the luggage rack thanks to the high quality Kompakt Rail system from Klickfix. The maximum diameter on which the system attaches is 16mm (universal).

• The perfect size to go to work, come back from the market, go to the sport...

• Height: 50cm, width: 26cm, depth: 10,5cm

• Weight: 1,2kg.

• 25 Liters.

• 1 compartment plated and padded to accommodate a computer.

• Adjustable and removable carrying strap.
The Tailoring Workshop

The bags are made in northern Portugal, in a family workshop.

Located 700km from France, the backpack is made by an expert! This family workshop has been making backpacks for over 45 years. Each element has been designed to last, because the longer the better.

The assembly of the fastening system is done in Tourcoing by a social integration company.
Delivery and return

• Delivery fee of 4€ for France, 8€ for Europe.

• Delivered to your home in 2-3 working days everywhere in France (in 4-6 working days for the EU).

• Returns and exchanges are possible for any unused product (within 14 days from the reception of the product).

• Re-shipment offered by La Virgule in case of exchange.
Guarantee

• All our products are guaranteed for 2 years.

• And because we want them to last as long as you do, La Virgule repairs them for life!
View full details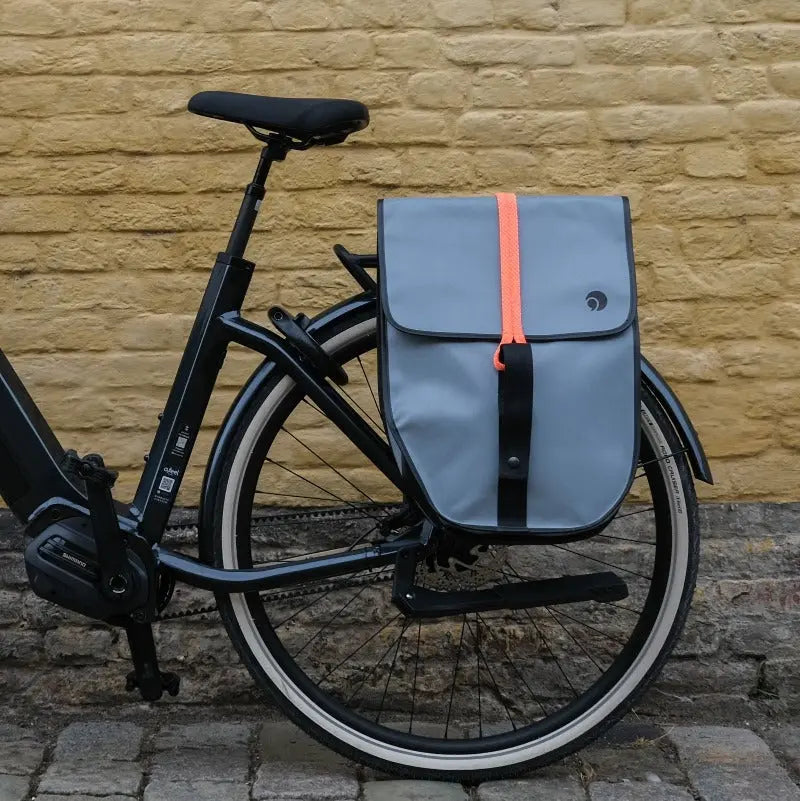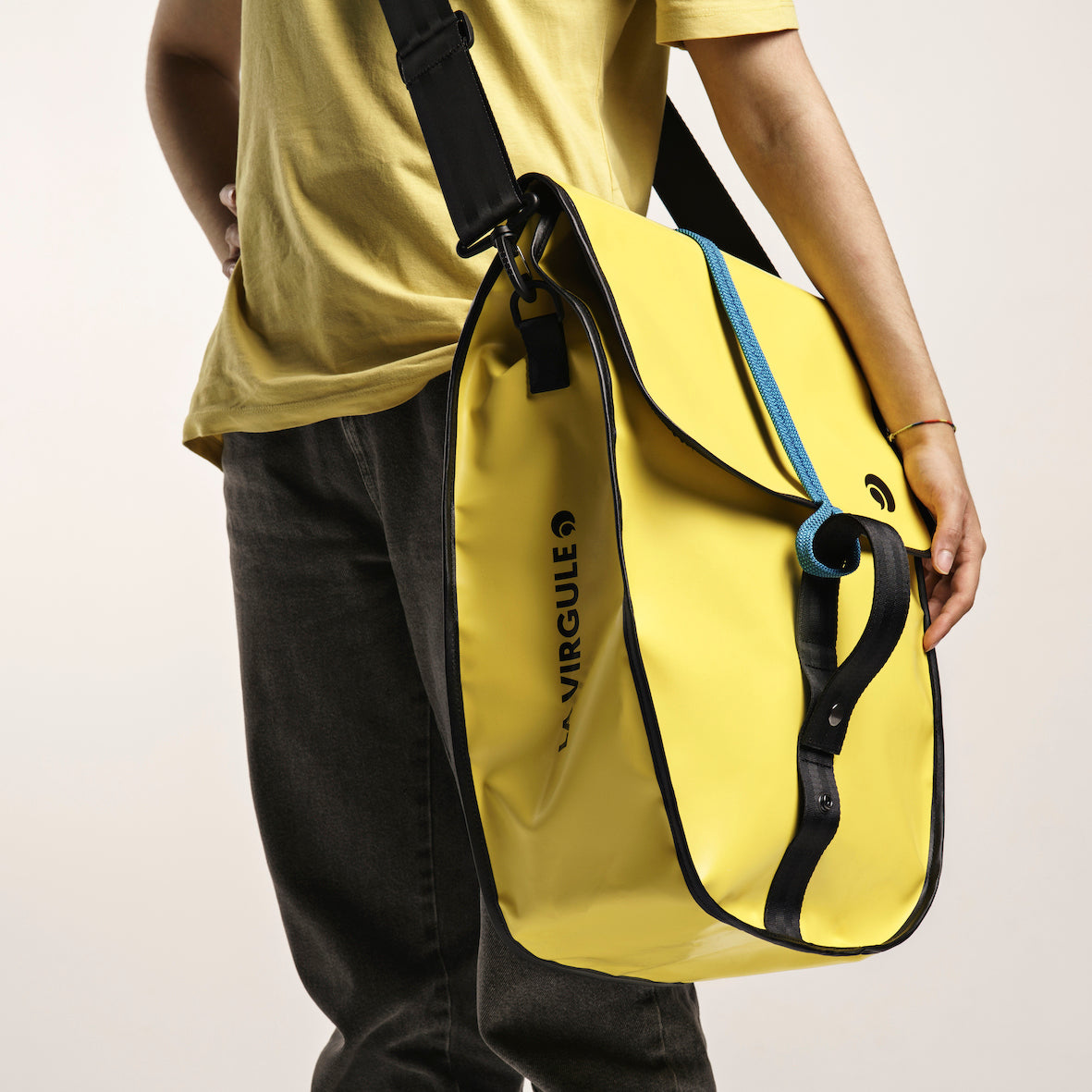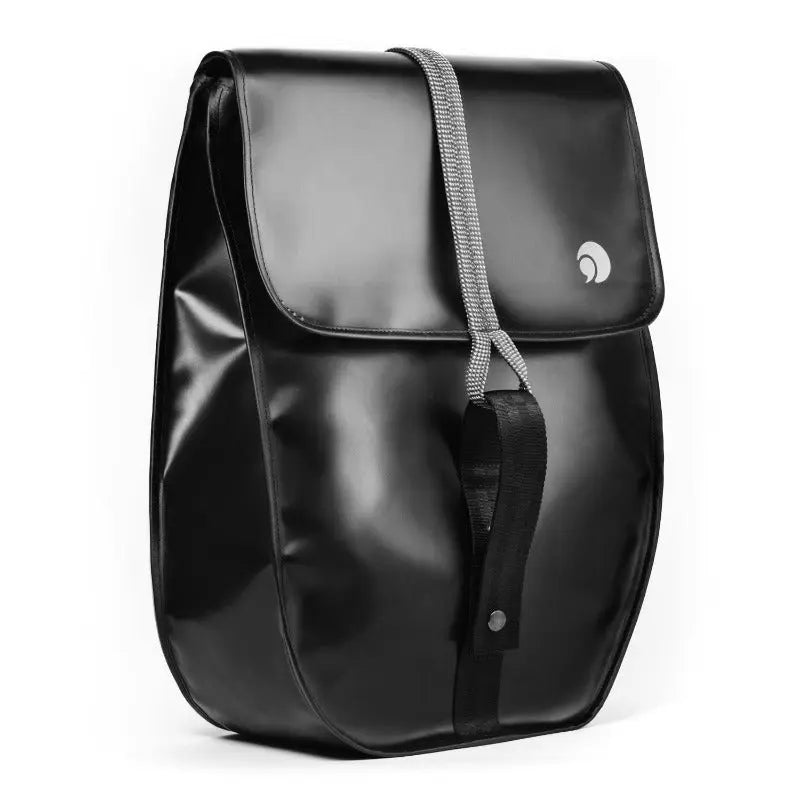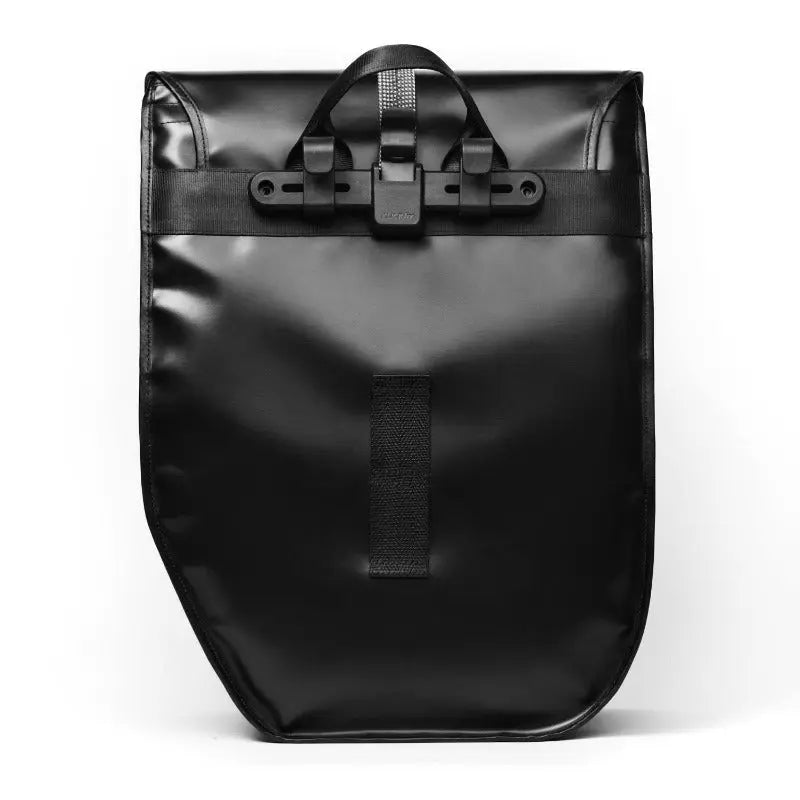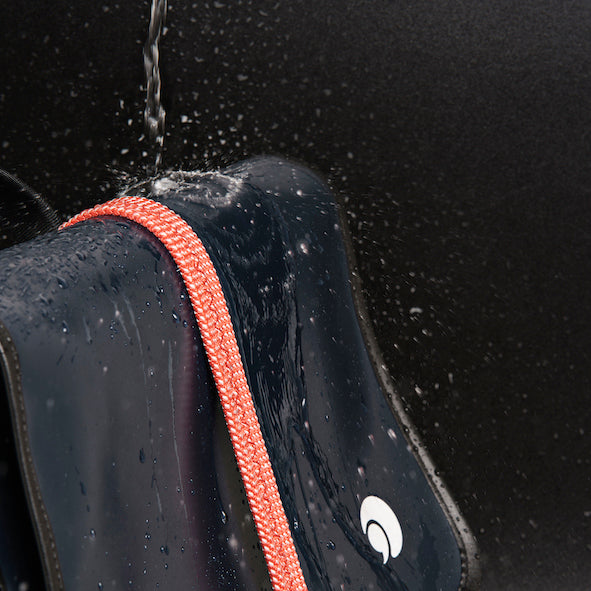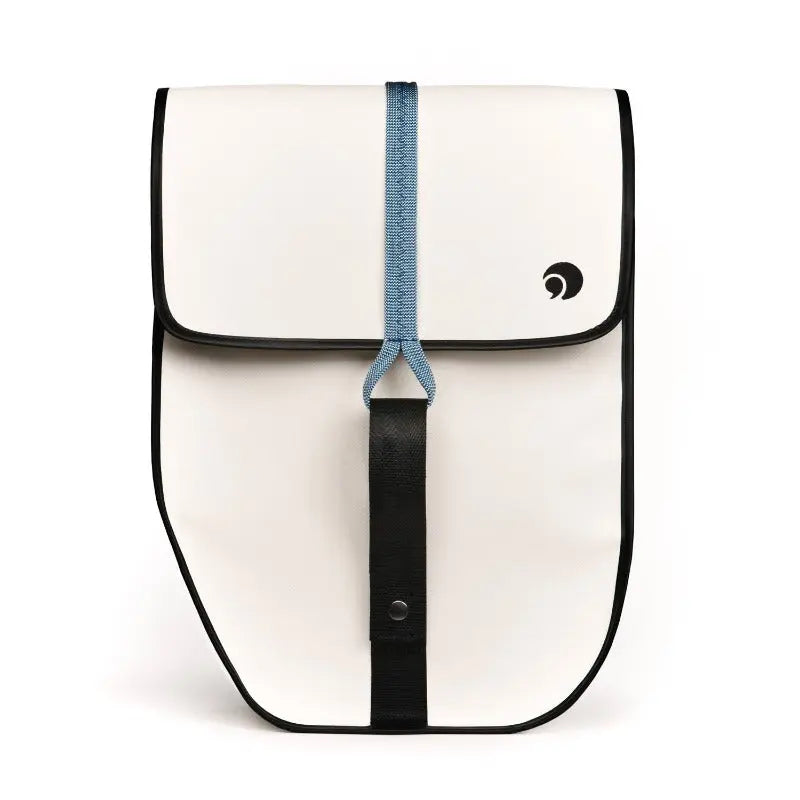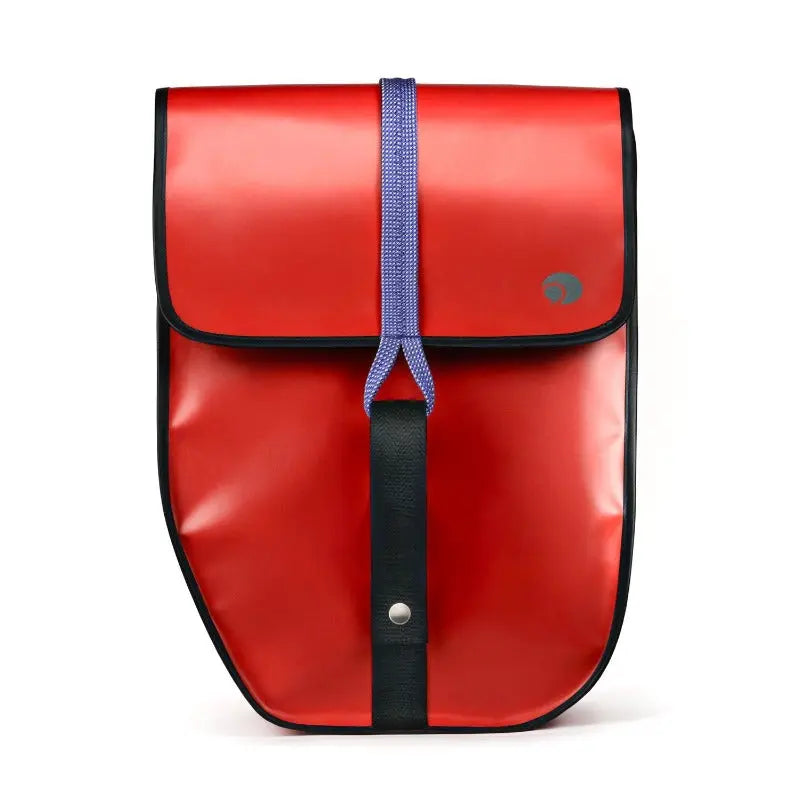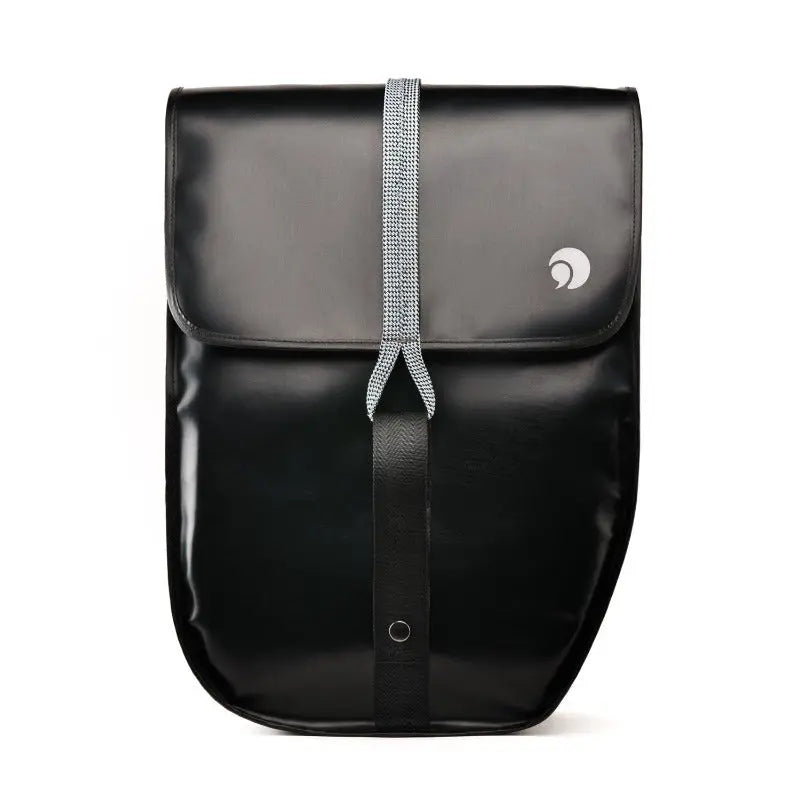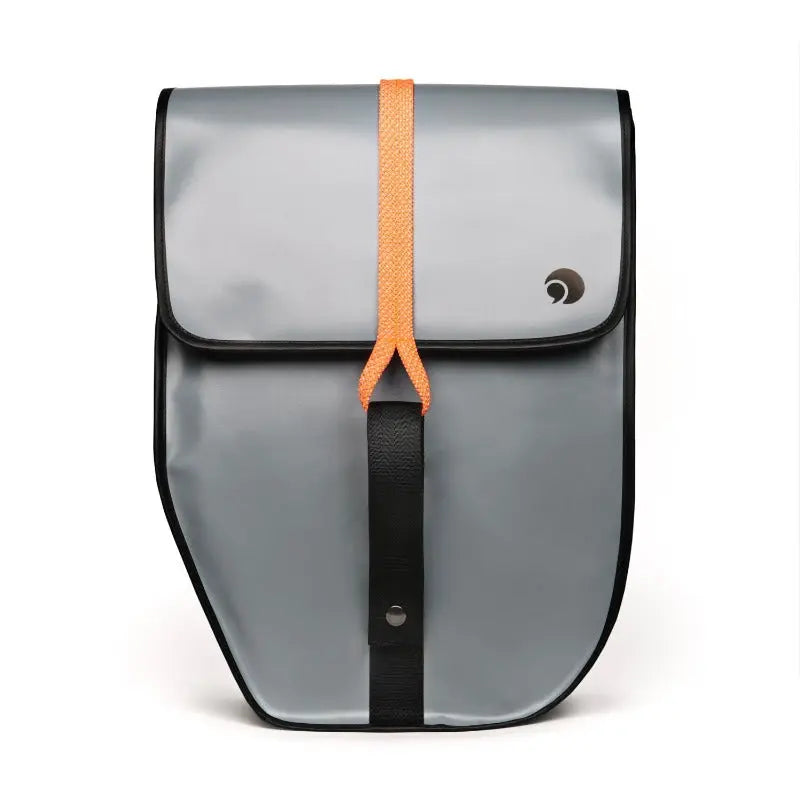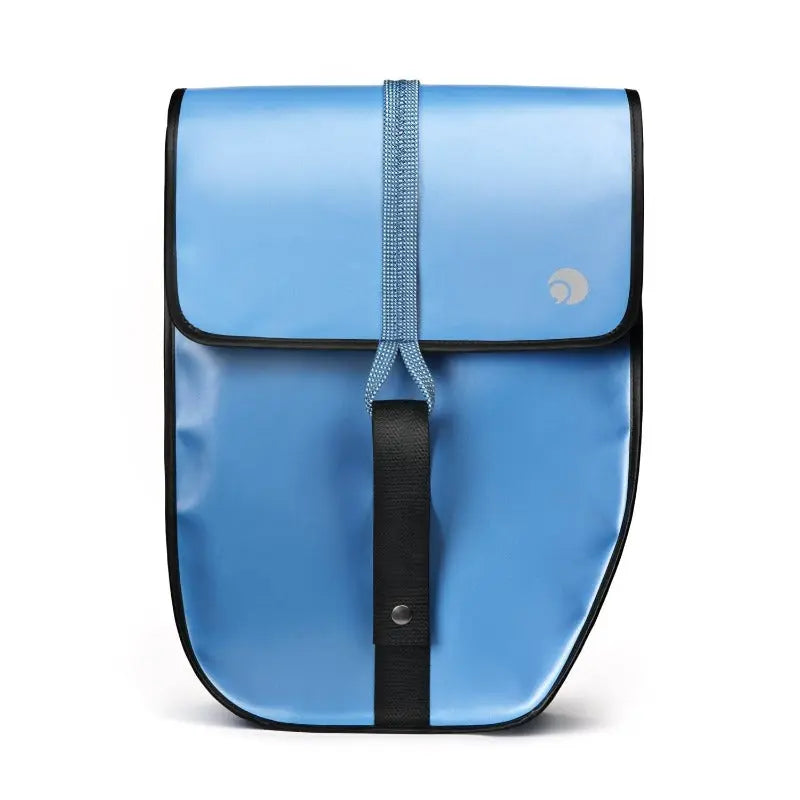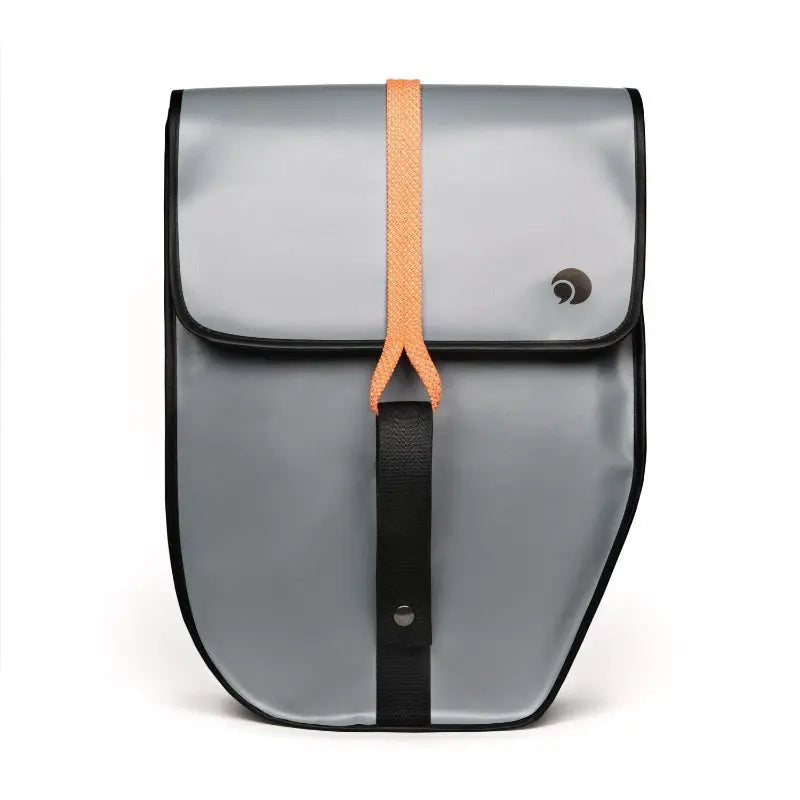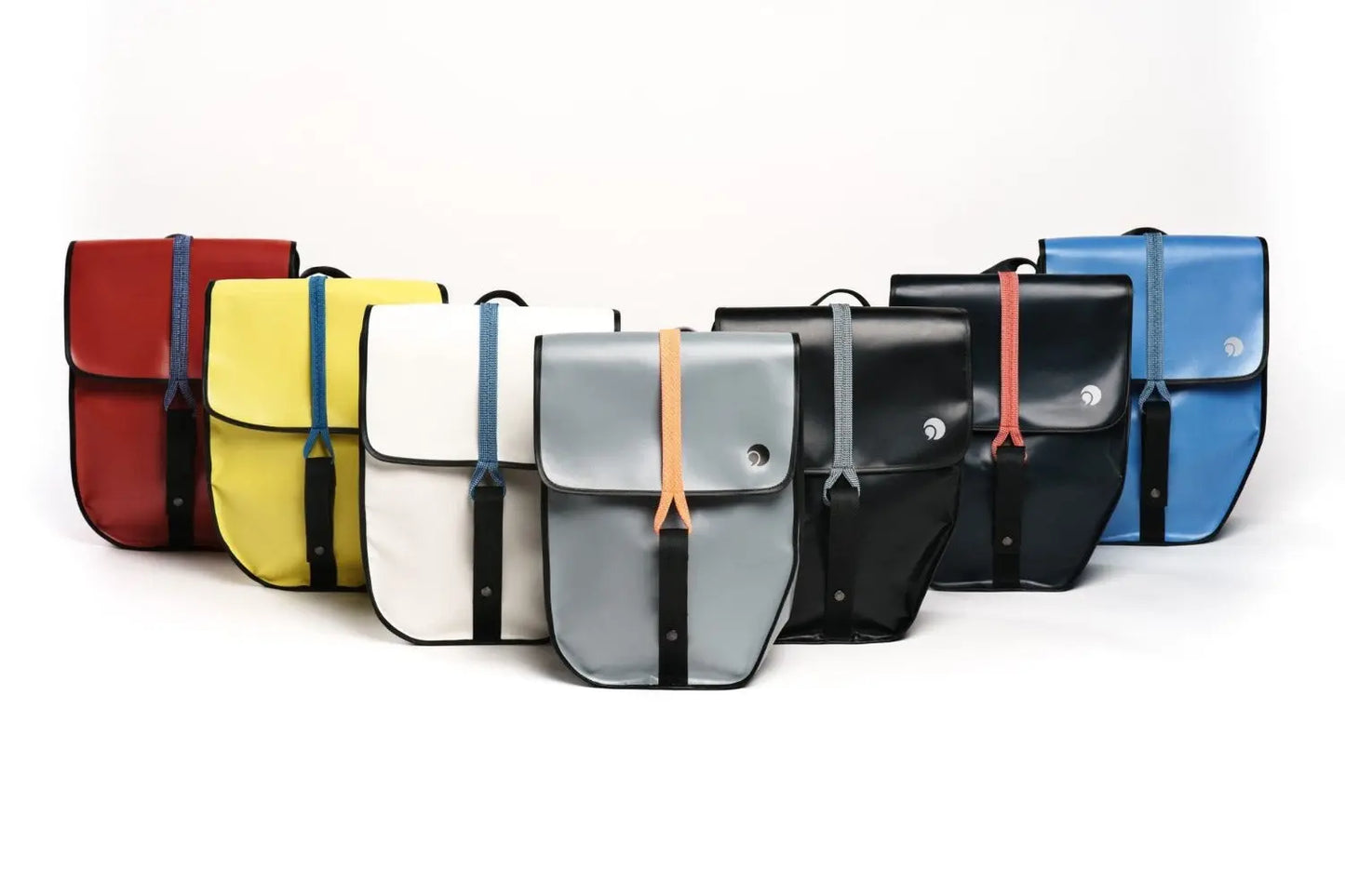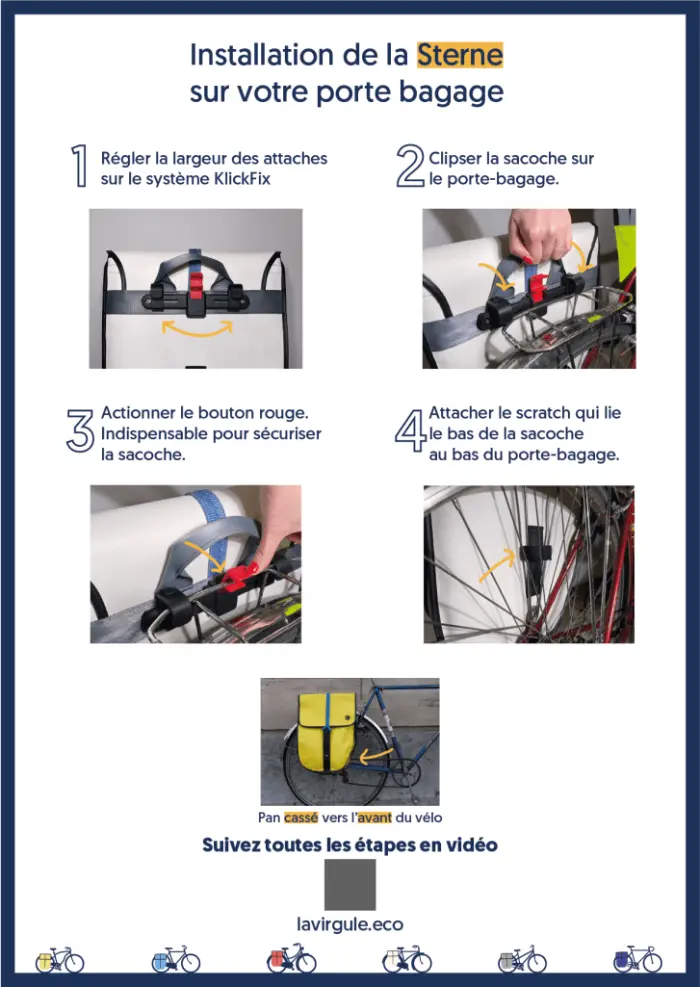 A (very) simple, secure and adaptable hanging system
Because an everyday bag must be attached and detached in 2 seconds, without risking it moving around, we have chosen one of the best fastening systems: the Kompakt Rail by Klickfix. Deutsche Qualität.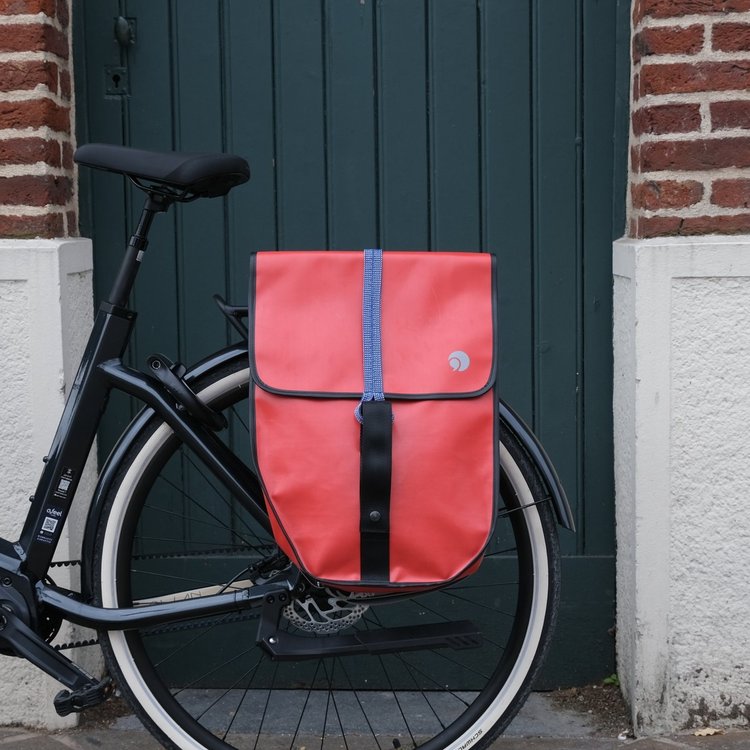 1. I put my pannier on my rack, making sure that the side with the "broken" side is positioned towards the front of the bike. This avoids touching the bag with his heel.
The maximum diameter on which the system attaches is 16mm (universal). The 2 attachment points are adjustable to adapt to all bikes, and all that without the slightest spanner of 12.
2. When the 2 points are correctly positioned, with the pannier furthest back on the bike, activate the red part so that it locks the pannier.

Bonus to make sure nothing moves: attach the Velcro fastener at the bottom of the Sterne to the bottom of your luggage rack.
Our engagements

100% of products are upcycled and manufactured in France and Portugal.

Guarantee

The products are guaranteed for 2 years and repaired for life.

Deliveries

In 2-3 working days at your place (4-6 days for the EU)

Possible exchanges and returns
Simple et efficace. Reste le confort au portage
Après quelques semaines d'utilisation, les sacoches donnent satisfaction.
J'aime la couleur jaune avec la sangle bleue, ça ajoute du plaisir à prendre mon vélo.
Très facile à fixer et à retirer du porte-bagage.
Belle capacité. Un sac à dos y rentre, contrairement à ce que je croyais. (j'ai dû transporter une fois le sac à dos d'une amie de ma fille)
La grande sangle est top pour porter la sacoche, dans laquelle je mets souvent la batterie de mon vélo.
Je n'utilise pas la sangle à scratch située au dos des sacoches. Peut-être la proposer en option pour éviter le gaspillage ?
Suggestion d'amélioration : trouver comment éviter ou réduire l'inconfort de la barre en plastique contre le corps quand on porte la sacoche avec la sangle sur l'épaule.
Je ne sais pas encore
Car la sacoche n'a pas encore été offerte à son destinataire (anniversaire en septembre).
Très beau produit pour la ville. Personnellement je fais le plein de courses avec :)
Au top pour tous les jours !
J'utilise la sacoche depuis 3 mois tous les jours pour aller au travail, faire les courses.. Elle est pratique à mettre/enlever, la grande sangle permet de la porter facielment. J'arrive à mette mon ordi, bento, et affaires de sports ! Au top !
super produit
sacoches faciles à installer. bonne contenance. Se tiennent bien. esthétiques. faciles à fermer ou à laisser ouvertes si très remplies.
je n'ai pas encore testé au bout de 6 mois si elles sont faciles à nettoyer ; après usage quotidien cet hiver, elles sont un peu sales. J'ai privilégié la visibilité de nuit (jaune) au côté moins salissant (gris)
pour une prochaine version, ajouter des bandes réfléchissantes sur la face arrière des sacoches ?